Using Search Engine Optimization (SEO) to Promote your Business
Posted By , on Jan, 2012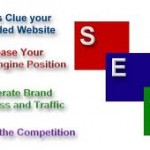 Does it seem like every Houston search engine optimization expert you talk to is speaking another language? What exactly is SEO? Search engine optimization encompasses a number of components, but altogether, it is the technical method of promoting your website so that Google recognizes and and ranks your company website on the first page of search results for specific keywords (without paying Google to appear in "sponsored results").
Say you are a dentist in Houston. Search engine optimization experts will do everything they can to ensure that when someone types "Houston dentist" or other relevant keywords in Google's search form, your practice tops the list of choices that appear on the page.
The benefits of search engine optimization to Houston companies or organizations are somewhat obvious. When your business is viewed more because it is ranked high in Google's results, this provides you with a greater opportunity to attract clients or to reach your consumer target. It is a method of increasing sales, as well as building brand recognition and a larger customer base online.
Some of the techniques employed to make SEO content successful is to integrate the use of a certain percentage of keywords per page with streamlined and efficient website construction, as well as populating the site with quality links and link returns. It is widely accepted as benefiting company websites that use SEO, and most marketing or advertising agencies in Houston offer search engine optimization along with a suite of other marketing products to support and execute your initiatives.
The successful implementation of search engine optimization can be extremely beneficial to your company's online presence, as well as to its continued growth and expansion. But there are easy traps to fall into that may work against you, especially if you contract with the wrong search engine optimization company. For example, there are those who attempt to cheat the rankings system by indiscriminately stuffing content with keywords. While that fooled the search engines for a time, it doesn't work well now, as search engines constantly adjust their algorithms in order to avoid such manipulation. In fact, SEO companies who produce genuinely relevant content with integrity can even have content rejected if such algorithms detect overuse of keywords, even if they naturally occur in the content. Search engine optimization requires knowledge of the constant changes in the industry, as well as judicious practices to ensure that no rules are violated. What works in January may be ineffective in July if you don't stay on top of current SEO techniques.
If you fall into affiliation with a company that uses ineffective SEO techniques, unfortunately, it will negatively affect your brand in numerous ways, not the least of which is your integrity as a business. Do your due diligence when searching for a Houston search engine optimization company. Ask to see samples of their work, and check references, too. Well-executed SEO campaigns can elevate your online brand to new levels, while ill-gotten or uninformed SEO techniques will drag your company down alongside the company who employs them.
John Manlove Marketing & Communications creates influence. Whether it's an everyday internal communication or a major announcement, our branding, creative advertising, and integrated media solutions will influence the right people.
Houston Advertising Agency – Creative Marketing _ Branding S